If you need to forward a text message from your phone to another number, you might be struggling, and not sure about the best way to do this. It sounds tricky, but with apps like AutoForward Text, it can actually be pretty straightforward. It's also possible to forward texts to your email address, which can be really helpful.
Whether you're using your phone for business or for personal needs, being able to forward texts can help. It lets you keep copies of texts, view them on email platforms, send them to relevant parties, and streamline your work processes.
If you find yourself wanting to forward texts and trying to copy them out manually, know that there's a better way! We're going to explore it today.
Setting Up AutoForward Text
If you're ready to set up the AutoForward Text app, the first thing you need to do is go to the link here to download the app directly on your Android phone. Once you've downloaded the right app, install it on your device. You will need to create an account, using your email address and a password.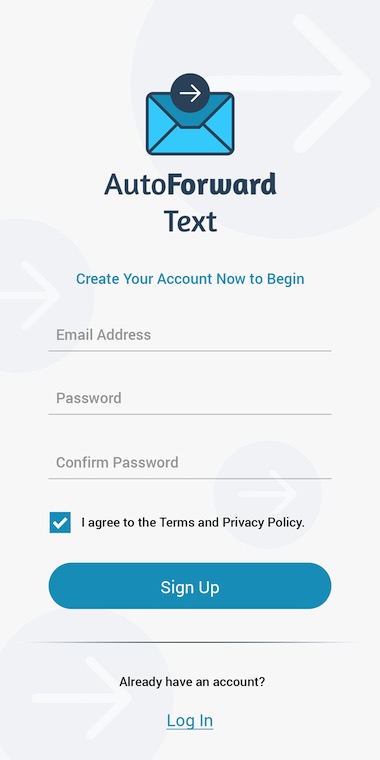 Once you have created the account, log in to it and you can start using the app.
You should then get a message from the app, requesting permission for it to access your SMS messages. You will need to allow this, or the app won't be able to work, as it won't be able to open and view your messages to send them on. If you accidentally hit "deny," you'll need to go into the settings and update this to allow, as the app cannot work without permission to view your messages.
Your app is now set up and ready to use, but it's a good idea to program it so that your SMSs can be forwarded to your email address. This is not essential, but it is recommended, and it can make your life a lot easier. It means that the text will be sent to your email using your internet connection, so you can check your text messages there.
Setting Up Text Message Forwarding To Another Phone Number
You need the premium plan if you are going to send texts to another phone number, so first, make sure you are on the correct plan.
Then, when you're ready to set up text message forwarding to another phone number, you'll need to go into the AutoForward Text app settings. Here, you will see a place where you can add the phone number that you want the texts to forward to. Make sure you have the number right, and then enter it into this box.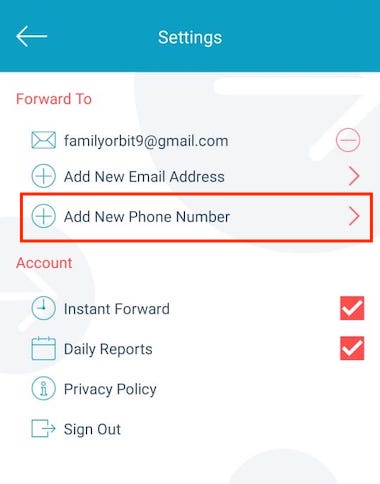 You can then customize the forwarding settings to suit your needs. You can decide which messages get forwarded, and from which contacts. If you only want work messages to forward, set up your work contacts in this area, and leave your personal ones out. If you want texts from one of your friends to forward to a group, enter their number here.
It's a flexible setup, meaning you can adjust it to behave in whatever way is convenient for you. You can forward to multiple phone numbers and email addresses, or just one if you prefer. You also have access to keyword filtering, and other useful tools, such as being able to forward call records to your email account.
This can make life so much easier, saving you time and energy in transferring data from your phone to your computer.
Troubleshooting Common Issues
If you're having problems with the app, it's worth knowing a few of the top areas to check for solutions. Quite a few issues can arise, especially when you're first getting set up, so let's explore each of these by turn.
Permission errors are a common problem. As mentioned above, you need to make sure that AutoForward Text has access to your SMSs, or it cannot forward them. If you aren't sure, go into your phone's settings and check the permissions. Enable the app, and then restart it and see if it works.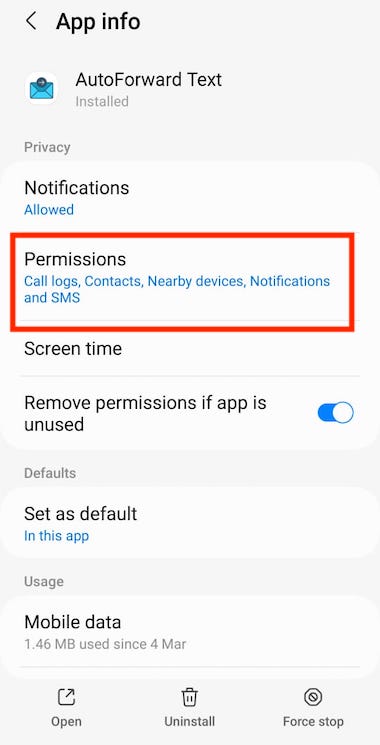 If not, there's a chance that your battery optimizer is stopping the app from working. Although this tool is useful for saving your phone's battery, it can prevent apps from working properly, so you need to check whether it's having an impact. You may need to add AutoForward Text to your list of app exceptions to prevent the battery optimizer from turning it off.
To do this, go into your phone's settings, and scroll down, then tap "Battery." Touch the three dots in the right-hand corner and hit "Battery Optimization." Choose "Not optimized," and then "All apps." Next, find AutoForward Text in the apps list, and select it.
Hit "Don't optimize," and then choose "Done." You should now have an app that is exempt from battery optimization, and this will stop the optimization software from interfering with the app.
Sometimes, you can see that your phone is forwarding the message, but the other phone isn't receiving it. If this happens, there are a couple of things you can check.
The first is incorrect filter settings. If the phone is set up to filter unknown numbers into a specific place, it may have switched off notifications, and the phone's user may not realize that the text is actually coming through. Filtering settings should be checked on the user's phone.
Another potential problem is the phone number being on the Do Not Disturb list, so this is something else that should be looked at. If the phone number that the text is being forwarded from has ended up on this list by mistake, the phone will not alert the user to new texts coming in.
This can make it look as though the texts are failing to come through.
Tips For Using AutoForward Text To Forward Text Messages
There are plenty of reasons that you might want to forward texts from one phone to another.
Groups of friends sometimes do this to make planning easier when they include somebody outside the core group, who may not have numbers for everybody. Businesses may do it to ensure team members can work together efficiently, and that everybody has the information they need. You can also use it to create a backup of your important text messages.
In some cases, parents may do it to make sure their children aren't being targeted by scams or dangerous individuals. Being able to just filter certain keywords to get texts forwarded can help parents to pick up on anything concerning without having to invade their child's privacy too much, or read texts they don't need to know about.
No matter what you want to set up auto forwarding for, it's a good idea to use keywords or specific contacts to maximize the efficiency and ensure you aren't having to read every single text that gets sent.
Remember to make use of email forwarding, too. You don't have to just send messages to phones, and for businesses in particular, being able to send them to an email address or another platform can improve communications and make it easier to deal with issues. Employees can then read them and deal with them more easily,on a larger screen.
It's a good idea to inform everybody who is involved that text message forwarding is occurring. This promotes openness and trust, and ensures that everybody understands the situation, reducing the risk of issues. This is true whether you're using the app at work, among friends, or with your children.
Conclusion
AutoForward Text can be very valuable if you need to send texts to either an email address or another phone number (or both). You can easily send the information you need to the relevant places without having to mess around manually copying and pasting.
Download the app today, and set up auto forwarding to make communications a breeze!